Maquet India is looking for freshers / experienced candidates or entrepreneurs (Posted on 24/08/2015) [Closed]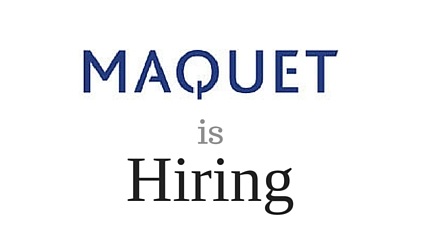 Company: Maquet Medical India Private Limited
Qualification: Diploma or degree in Biomedical engineering, Electronics, or instrumentation engineering.
Role: Service engineer
The candidate has to qualify by passing an entrance test with a score of 80% or more. Test material will be provided by Maquet
Interested candidates should send their resumes to ravindra.sarwade@maquet.com , i.am.biomedical@gmail.com
Also mention Reference: iambiomed in the subject line of your email.
Link for study material: http://www.iambiomed.com/article/589/Study-material-for-Maquet-interview
About Maquet:
The Maquet name has been synonymous with innovation, quality and trust since its founding in 1838. The company is also a world-leading provider of medical systems that meet the highest requirements for medically challenging interventions. At the same time, these systems exceed the expectations of the hospital teams that are responsible for the care of patients.
Maquet designs, develops and sells innovative treatment solutions and infrastructure functions for extremely demanding hospital departments, including operating rooms, hybrid operating rooms, catheter laboratories and intensive care units as well as intra- and inter-hospital patient transportation.
MAQUET offers attractive working conditions and ample opportunities to develop within a growing multinational medical technology business.


---
Sign Up to receive such updates straight into your inbox.
Contact us to post an ad for job vacancy in your company