How 3D printing is impacting biomedical engineering?
Three-dimensional (3D) printings are expanding and are expected to revolutionize healthcare and biomedical industry. We are now in the age of bioprinting, where the machines we have built are building bits and pieces of us.
3D printing is a manufacturing method in which objects are made by fusing or depositing materials such as plastic, metal, ceramics, powders, liquids in layers to produce a 3D object.
3D Printing is taking awesomeness to the next level! – 3Ding
Here is a video by Mashable that explains the basics of 3D printing technology.



A new study predicts that the 3d printing market for healthcare will reach $4043m in 2018.
The application of 3D printing in medicine can provide many benefits, including: the customization and personalization of medical products, drugs, and equipment; cost-effectiveness, increased productivity.


Medical uses for 3D printing can be organized into several broad categories, including:
- Tissue and organ fabrication
- Creation of customized prosthetics
- Implants, anatomical models and visualization
- Pharmaceutical research regarding drug dosage forms, delivery, and discovery
Some of the current uses of 3D printing:


Visualization:
A huge amount of 3D printing in the Healthcare industry is used for visualization. Doctors can use the data from a CT scan to print a model of what they will be operating on to scale. They use these models to prepare for complex surgeries eliminating any surprises they may have run into otherwise.
Recently Richard Kim, MD, a cardiac surgeon at Children's Hospital Los Angeles, recently used a 3D printed heart as a model to plan a life-saving procedure for his young patient. The child was born with a rare, life-threatening cardiac defect.
Knee Replacement and prosthetics:
Knee replacements are a very effective treatment for end stage osteoarthritis of the knee. Each one of the knee implant requires the patient's bone to be cut differently from another implant.
3D printing has eliminated this limitation allowing for custom implants for each patient. 3D printing enables customized knee replacement surgery. The process of creating a personalized implant begins by taking a CT scan of the patient's hip, knee and ankle. Then the CT scans is transferred to the 3-D printer and that information is used to build the actual prosthesis as well as the "cutting blocks". The cutting blocks allow the doctor to see precisely where to make the cuts for the surgery. The implant material consists of cobalt chrome, a plastic called polyethylene.
A combination of CT imaging, modeling software and 3D printing technology is enabling ConforMIS to offer implants tailored specifically to each patient. The video below provides an overview of the ConforMIS approach.


In last couple of years, there has been a revolution in the number of customizable, functional prosthetic hands that can be printed by even the most inexpensive 3D printers. Volunteer communities such as e-Nable are connecting and helping those in need of a prosthetic hand.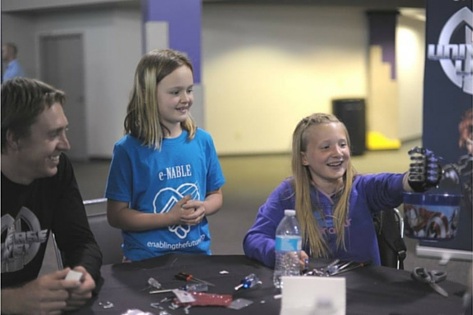 3D printing can revolutionize the fracture support as well. Jake Evill, a graduate from Victoria University of Wellington and his recent conceptual project "the Cortex exoskeletal cast" is designed to replace the usual plaster casts with a highly technical and trauma-zone-localized support system. The Cortex exoskeletal cast provides a highly technical and trauma zone localized support system that is fully ventilated, super light, shower friendly, hygienic, recyclable and stylish.
The cortex cast utilizes the x-ray and 3d scan of a patient with a fracture and generates a 3d model in relation to the point of fracture.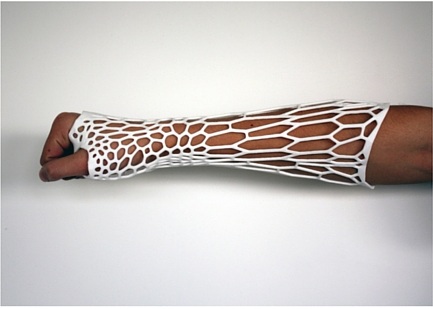 3d bioprinting tissues & organs
Advances in 3-D printing and medical technology will soon make it possible to construct human tissue in a lab, implant it in a patient and watch it grow into the body.
The concept of growing spare body parts in test tubes has long featured in science fiction, but research using stem cells is now allowing real organs and tissues to be created in laboratories.
This is part of a fast moving field known as regenerative medicine, which promises to provide patients with a catalogue of spare parts to repair and replace damaged or diseased bits of the body.
US-based 3D bioprinting firm Organovo has set itself a challenge that could transform the future of medicine. It has succeeded in creating 3D printed kidney tissue. Their goal is to build living human tissues that are proven to function like native tissues. Their true dream lies in 3d printing the organs.
Here is a video by organovo explaining 3d bioprinting of tissues that they work on:
"The biggest challenge to making larger tissues is keeping them alive. We could print a larger block of tissue but it would not survive because the cells need oxygen and nutrients. You need a full vascular system like the one that exists in the body to keep those cells alive," says Keith Murphy, founder and CEO, Organovo.
An illustration of a 3D bioprinter able to print human tissue: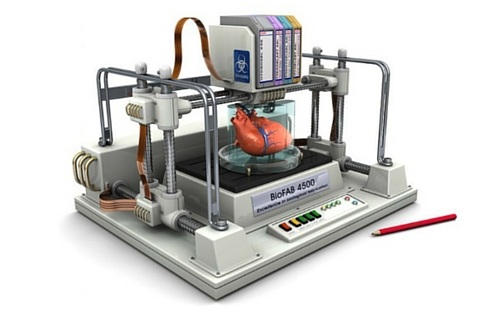 While the mechanical process for 3D printing is not that complicated getting the materials for bio printing is. And since the 3D printed items will biological in nature, more research needs to be done on how to store and preserve these tissues and in the future organs.
Bio printing has all the tools to become a truly disruptive technology with its potential to print limbs and implant functional human tissues. There are already signs of success of what the technology will have to offer in the future. This is going to be a revolution in the healthcare technology. I would love to know in the comments what you think about this.
Sign up to receive such updates by Aditya Ekawade straight into your inbox.
---