---
PACS- An Introduction -Review Article

---
A PACS require many components working in close communication with each other. Vast amount of data pass through any PACS system, and there is always and almost constant demand for the access of these data from radiologist and clinician.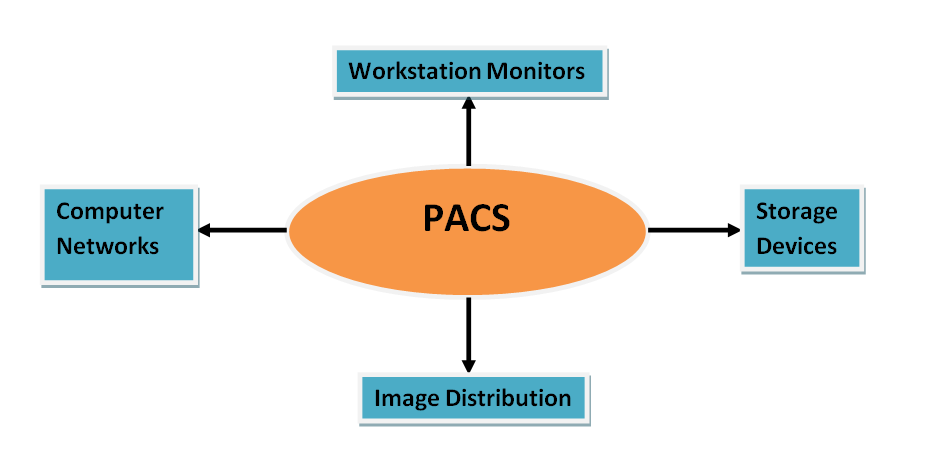 Block diagram of PACS system
Workstation Monitors:
With transition from film to filmless images, traditional film image alternators have been replace by workstation monitors. Instead of backlit view boxes, images are viewed on computer monitors. When choosing equipment care is to be taken about monitor technologies and hardware options.
Computer Networks:
An infrastructure of network of computers that allows the data to pass from modalities to PACS and then to radiologist workstations to a long term storage devices. The network allows the dictations of radiologists to be distributed to clinicians and also enables communication tools such as e-mail.
Storage:
Earlier films were stored in warehouse like film libraries and often required hours and days to retrieve them back. The films would get destroyed on a long run. On other hand, in PACS rapid retrieval of images is expected.
Image Distribution:
One of the major benefits of PACS is efficient distribution of images. Multiple users can view the same study at the same time. Also the images can be sent to any location almost instantly.
PACS has become an essential element in many radiology practices.
This is just an overview of what PACS contain. I will be back more information in our next edition.
---
blog comments powered by