Robotics has always been an exciting, dynamic and interdisciplinary field of study and it is now revolutionizing the healthcare industry. Robotics is proving its potential for improving the quality of patient care, as well as making it more sustainable and affordable. Here is a summary of innovations and applications of robotics in healthcare.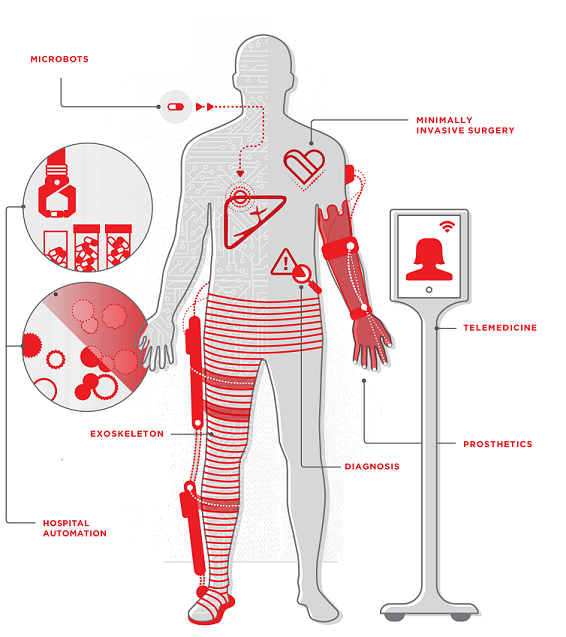 ROBOTIC SURGERIES
Robotic surgery is a method used to perform surgeries using very small tools attached to a robotic arm. The surgeon controls the robotic arm with the help of a computer. Robotics in Surgery includes the use of robotic and image processing systems to interactively assist a medical team both in planning and executing a surgery. Physicians use a robotic arm to perform complex heart valve and spine surgery and execute precise insertions of hip and knee implants.
These new techniques can minimize the side effects of surgery by providing smaller incisions, less trauma, and more precision.
MICROBOTS
Microbots are free-roaming robots that carry out precise, delicate tasks inside the human body. Microbots can be used to remove plaque from arteries thus eliminating the risk of artery blockages. Robotic pills can dispense drugs at any location and at a rate programmed by your doctor. They can be used for diagnostic applications such as imaging.
PROSTHETICS
The first FDA-approved, mind-controlled arm restores functionality for individuals with upper extremity amputations. It can perform multiple, simultaneous powered movements controlled by electrical signals from electromyogram (EMG) electrodes.
---